Hormone imbalances and fluctuations can leave you feeling awful. Identifying these conditions via hormone testing is essential to re-establish a healthy balance.
Hormone testing allows you to better understand how your body is operating under the surface and helps unravel the complicated internal reality that symptoms alone can't reliably reveal. If initial testing reveals an imbalance or problematic fluctuations, your hormone values can be used to create a treatment plan customized to your needs. Ongoing testing will be critical to monitoring the efficacy of treatment and fine-tune your dosage to achieve optimal hormone levels. Your hormone health practitioner knows best which types of hormone tests you need, but understanding your options can help you understand what to expect.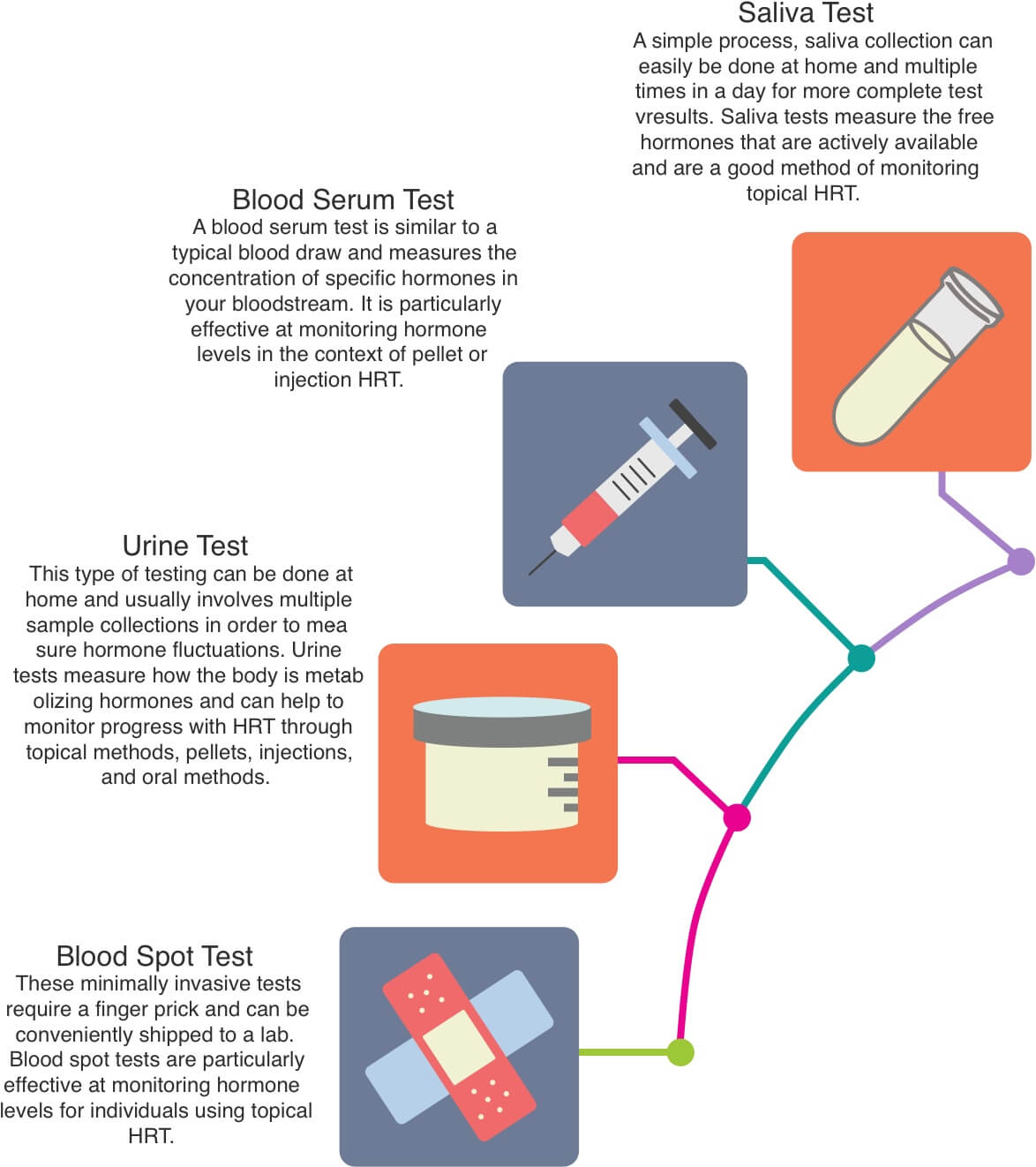 What Are the Different Types of Hormone Tests?
Practitioners can test hormone levels using blood, urine, or saliva samples. Each type of test has advantages and disadvantages with regard to an individual's health, the hormones to be tested, the hormone treatments already underway, and other variables. In some cases, your individual preference may also be a factor in choosing the best type of test.
SALIVA
A saliva test is perhaps the most simple hormone test when it comes to sample collection. After spitting into a tube multiple times over the course of one day or several days, a laboratory can analyze individual or combined samples to determine individual or average measurements of hormone levels. Samples can be collected at home.
Saliva tests offer a good picture of free hormones that are actively available to the body as opposed to the total amount of hormones in your bloodstream. However, some hormone concentrations are inherently higher or lower in saliva than in blood or urine, so there can be limitations to this type of hormone testing. There are also additional variables to take into account with saliva testing, such as pH levels in the mouth, the effects of teeth brushing, food intake, and make-up use.
In general, hormones for which saliva testing is well-suited include:
estrogen

estriol
estradiol
estrone

progesterone
testosterone
DHEA-S (dehydroepiandrosterone)
cortisol
Ultimately, saliva tests can play a vital role in diagnosis and are often the preferred method of assessing the progress of hormone replacement therapy—especially topical HRT treatment options. Saliva testing can also ideal for measuring cortisol, as the anticipation of blood tests themselves can cause a stress response in some people, temporarily inflating cortisol numbers. It is also easy to produce saliva samples throughout the day to determine patterns of stress.
BLOOD SERUM
The blood serum test for hormone levels is a typical blood draw taken in your practitioner's office or lab and used to determine the concentration of specific hormones in your bloodstream. Unlike a blood spot test, which is stored as dried blood and then rehydrated for analysis, a blood serum test analyzes blood in its original form. As such, it may have a shorter shelf life than blood spot samples but a slightly wider range for hormone testing. To ensure efficacy, you may be required to fast for a period of time prior to the blood draw.
Blood serum testing can be used to assess a wide range of hormones and other analytes, including:
insulin
thyroid hormones
testosterone
estrogen
progesterone
LH (luteinizing hormone)
FSH (follicle-stimulating hormone)
prolactin
DHEA-S
SHBG (sex hormone-binding globulin)
PSA (prostate-specific antigen)
cortisol
While highly versatile, blood serum tests may not be ideal for measuring hormone levels influenced by HRT gels, creams, and other topical therapies. However, it can be reliably used to monitor hormone levels in those using HRT injections or pellet therapy.
BLOOD SPOT
Minimally invasive and convenient, blood spot testing requires only drops of blood following a finger prick. The blood is dropped directly onto a filter card in multiple spots and left to dry. In some cases, this test can even be done at home, as the dry blood samples are stable enough to deliver to a lab. Lab technicians then rehydrate the blood spots in order to test in a manner similar to blood serum testing.
Although blood spot samples offer the benefit of longer-term stability than blood serum samples, this method is more limited in the variety of hormones and other analytes that it can test for. Blood spot tests may be used to assess:
insulin
thyroid hormones
estrogen
progesterone
DHEA-S
testosterone
SHBG
PSA (prostate-specific antigen)
LH
FSH
Despite the more limited scope of blood spot tests, they can produce highly accurate results for many critical hormones and are an effective method of monitoring hormone levels in those using topical HRT creams or gels—more so than blood serum testing.
URINE
When it comes to hormones, urine testing typically involves collecting multiple samples of urine at multiple times of day in the privacy of your home or collecting all of your urine for 24 hours in a jug. Multiple samples can be critical to gaining insight into your hormonal health by capturing hormone fluctuations throughout the day. The larger sample volume and variety can also help practitioners account for variables such as urine concentration.
Like saliva tests, urine tests measure free hormones, including:
estrogen

estrone
estradiol
estriol

progesterone
testosterone
DHEA-S
cortisol
melatonin
Urine testing is the one type of hormone testing that allows practitioners to assess how the body is metabolizing hormones. This is an opportunity to identify risks—such as cancer risk—when hormones are not breaking down optimally in the body. Urine tests are also capable of measuring more types of estrogen hormones than blood tests are. Urine tests are useful in patients who are using topical, oral, injectable or pellet HRT therapies. Urine cortisol testing has been shown to be equivalent to salivary cortisol testing and has the additional benefit of assessment of cortisol metabolites.
What Is the Best Type of Hormone Test for You?
Due to the many variables involved in hormonal medicine, no one type of hormone test is generally preferred by practitioners. Instead, the type of hormone test should suit a patient's individual situation, considering factors such as:
symptoms
medical history
current medication regimen
lifestyle
suspected hormone imbalances
personal preferences and limitations
It's critical to look at all of these elements and consider how they are working together when selecting a testing method. Each one of us is unique, and even small differences in lifestyle or current prescriptions could make a big difference in assessment and treatment. In some cases, it can even be beneficial to use more than one type of hormone test for an accurate diagnosis.
Which Hormones Should You Get Tested?
If you suspect that you are experiencing a hormonal imbalance or the unwanted effects of age-related hormone fluctuation, it is a good idea to begin recording your symptoms on a daily basis. This record can be an important tool when you speak to a hormone specialist and begin the journey of diagnosis and treatment. Although noticeable symptoms are not the complete picture, it is a good place to start and can help you to better understand your health goals.
While you may have a good idea of what you would like to be tested for, the guidance of an experienced practitioner is essential to determine which hormones to test for and which types of hormone tests will be best to ensure accurate diagnosis and facilitate treatment planning This chart can help you quickly understand your testing options based on the specific hormones being assessed:
| | Saliva | Serum | Urine | Spot |
| --- | --- | --- | --- | --- |
| Estrone | ✔ | | ✔ | |
| Estradiol | ✔ | ✔ | ✔ | ✔ |
| Estriol | ✔ | | ✔ | |
| Progesterone | ✔ | ✔ | ✔ | ✔ |
| Testosterone | ✔ | ✔ | ✔ | ✔ |
| DHEA-S | ✔ | ✔ | ✔ | ✔ |
| SHBG | | ✔ | | ✔ |
| LH | | ✔ | | ✔ |
| FSH | | ✔ | | ✔ |
| PSA | | ✔ | | ✔ |
| Prolactin | | ✔ | | ✔ |
| Thyroid | | ✔ | | ✔ |
| Insulin | | ✔ | | ✔ |
| Cortisol | ✔ | ✔ | ✔ | |
| Melatonin | | | ✔ | |
| | Saliva | Serum | Urine | Spot |
| --- | --- | --- | --- | --- |
| Estrone | ✔ | | ✔ | |
| Estradiol | ✔ | ✔ | ✔ | ✔ |
| Estriol | ✔ | | ✔ | |
| Progesterone | ✔ | ✔ | ✔ | ✔ |
| Testosterone | ✔ | ✔ | ✔ | ✔ |
| DHEA-S | ✔ | ✔ | ✔ | ✔ |
| SHBG | | ✔ | | ✔ |
| LH | | ✔ | | ✔ |
| FSH | | ✔ | | ✔ |
| PSA | | ✔ | | ✔ |
| Prolactin | | ✔ | | ✔ |
| Thyroid | | ✔ | | ✔ |
| Insulin | | ✔ | | ✔ |
| Cortisol | ✔ | ✔ | ✔ | |
| Melatonin | | | ✔ | |
In addition to testing for specific hormone levels potentially related to your symptoms, you and your practitioner may also decide to conduct a general hormone health check to see the bigger picture and help you create a plan for greater overall balance.
Where Should You Get Your Hormones Tested?
Many practitioners are qualified to perform types of hormone tests, but the best option is finding a practitioner who specializes in hormone health. Identifying hormone imbalances and designing an effective treatment plan can be a complex process that goes beyond numbers in a lab report. To ensure you get the highest quality care, it is important to turn to someone with a depth of experience necessary for accurate diagnosis and treatment.
With the support of a hormone health specialist, you can confidently explore your options for hormone testing and hormone replacement therapy in light of your personal medical history and overall health. The right practitioner will also help you make healthy lifestyle changes to help you achieve your wellness goals and enhance your quality of life.
When seeking out a practitioner, look for these qualities:
Specializes in hormone health and HRT
Has completed extensive specialized training
Has access to wide resources for testing and treatment options
Provides individual attention and cares about your goals
With the right hormone health practitioner to guide you forward, you can find meaningful symptom relief and find your way back to your best, most vital self.
If you are looking for greater insight into your hormone health, BodyLogicMD can help. The practitioners in the BodyLogicMD network are top experts in hormone health and offer the best hormone testing and treatment options available to help you address your symptoms. By working with BodyLogicMD-affiliated practitioner, you can take the first steps on the path to healing and enhanced wellness. To get started, contact a local practitioner near you to schedule an appointment, or take the Hormone Balance Quiz to learn more about how your hormones may be impacting your daily life.